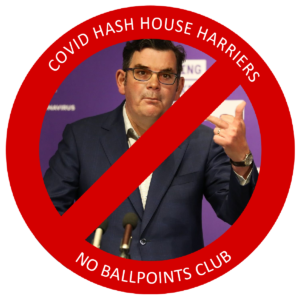 WHAT WE DO
If you don't know what Hashing's about there's plenty of stuff on the internet to explain it.  But this is what the COVID Hash does; –
We gather at the run venue from 6:15pm ready to start running at 6:30pm.  We set out through the bush following a pre-set trail marked with dobs of flour, toilet paper or other easily identifiable markings.  Run or walk when the going gets tough we keep the pack together either by running back or waiting until everyone gets there.  Waiting is an ideal opportunity to tell jokes, sing songs or get up to some hijinks so come along with something that entertains.  The runs vary in length (between 5 – 10kms) but don't worry it won't all be running, a good portion you'll need to walk. On the run there'll be time to chat, commune with nature, enjoy magnificent vistas of the Gold Coast, gaze at the heavens, swim through cool creeks, play "cane toad footy" or search for lost Hashmen! Eventually the trail will lead everyone home (and if it doesn't we come and find you!).   Where we'll socialise and have something modest to eat.
If this is for you, and you only need half-a-mind, give us a ring or just come along!  Bring a good torch, beer or whatever you drink, $10 and an open mind. 
It's not a race, it's just being part of the human race.
C U Next Tuesday!