Run #161: Cinco de Mayo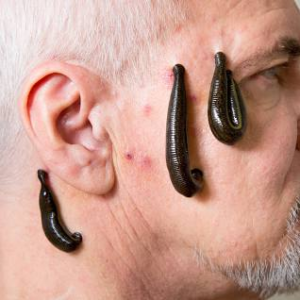 Well, it only took 161 runs to work it out but finally a hare (Derrolicked my Balls) managed to lay a waterproof trail which defeated the 130mm of rain.  Literally a well-crafted trail with paper mache markings and checks taking us to all corners of the forest with the best-ever quality piss-stop (Fireball shots). Thanks to the weather we were also able to incorporate a couple of creek swims to the delight of Arsenic who brought along his snorkelling gear, but his spirits were soon dampened upon the discovery of leeches on his face upon arrival back at the circle (see photo).

Despite not running the RA (Eno) turned up to gloat about the magnificent weather he had put on. He was in such a hurry to cum he forgot the run scoring mechanism and with our fearless leader still in Darwin grabbing grannies we were forced to improvise resulting in a run score of 10 out of 12. The evening was rounded off with not only sausages and white bread but ONIONS!!! to boot and the circle closed with the resolution that B#llpoint (I didn't name him) was in fact still a c&nt.